Cantiga
Currently the choir is currently led by Tom Hoornaert. It has 45 members and was founded by the
organist Luc Vandenabeele in 1976.
In 1999 Tom took over the wand. The choir experiences an remarkable growth and sings
mainly polyphonic liturgical music.
They are well acknowledged and appreciated as choir stimulating the 'singing church'.
Next to the religious repertoire they also dare to bring profane songs under the dynamic impulse
of Tom and with equal success.
With the support of his fantastic management Tom can realize his musical dreams.
Rehearsals of Cantiga are on Wednesdays from 20.00 p.m. till 21.30 p.m. in the Saint-Peterschurch
in Tielt.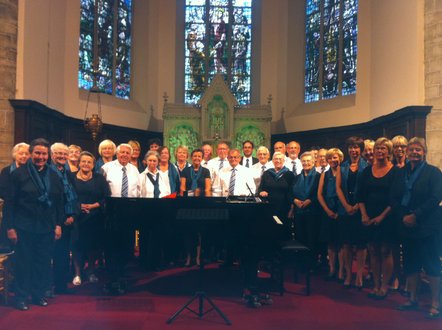 Chamber choir Ultreya
In November 2001 en enthusiastic group of people with choir experience started rehearsing.
The objective is to build up a profane and liturgical repertoire and this way cover a wide range
of music styles.
The choir counts at present 9 sopranos, 6 altos, 4 tenors and 4 basses. We can always count
on Wouter Vande Ginste as the continuous pianist.
Together with a dynamic management Ultreya can be seen as a highly semi-professional choir.
You can join them as a choir member after doing an audition.
Rehearsals of Ultreya are on Fridays from 20.00 p.m. till 22.00 p.m. in CCGildhof Tielt.
We attend diverse performances.